A couple of weeks ago, Florida hired their new head football coach. And soon after, Nebraska did the same.
Florida now has Jim McElwain who replaced Will Muschamp. Nebraska now has Mike Riley who replaced Bo Pellini.
It was an unusual end to a season in college football where three tradition-rich football programs were in need of new head coaches. While the Gators and Cornhuskers have found their man, Michigan continues to tumble in the breeze — and there's no one to blame but Michigan itself.
At the end of the 2007 season, Michigan supporters wanted Lloyd Carr gone. So much pressure was put on Carr that he decided to retire after the team's bowl game that season. Carr's record over his final five seasons at Michigan? 2003 (10-3), 2004 (9-3), 2005 (7-5), 2006 (11-2) and 2007 (9-4).
But despite Carr's record late in his coaching career, fans were most unhappy about his record against Ohio State. Over his final seven meetings against the Buckeyes, Carr and the Wolverines lost six of them. And in Carr's final season, Michigan lost at home to Appalachian State, a game most of us will never regret.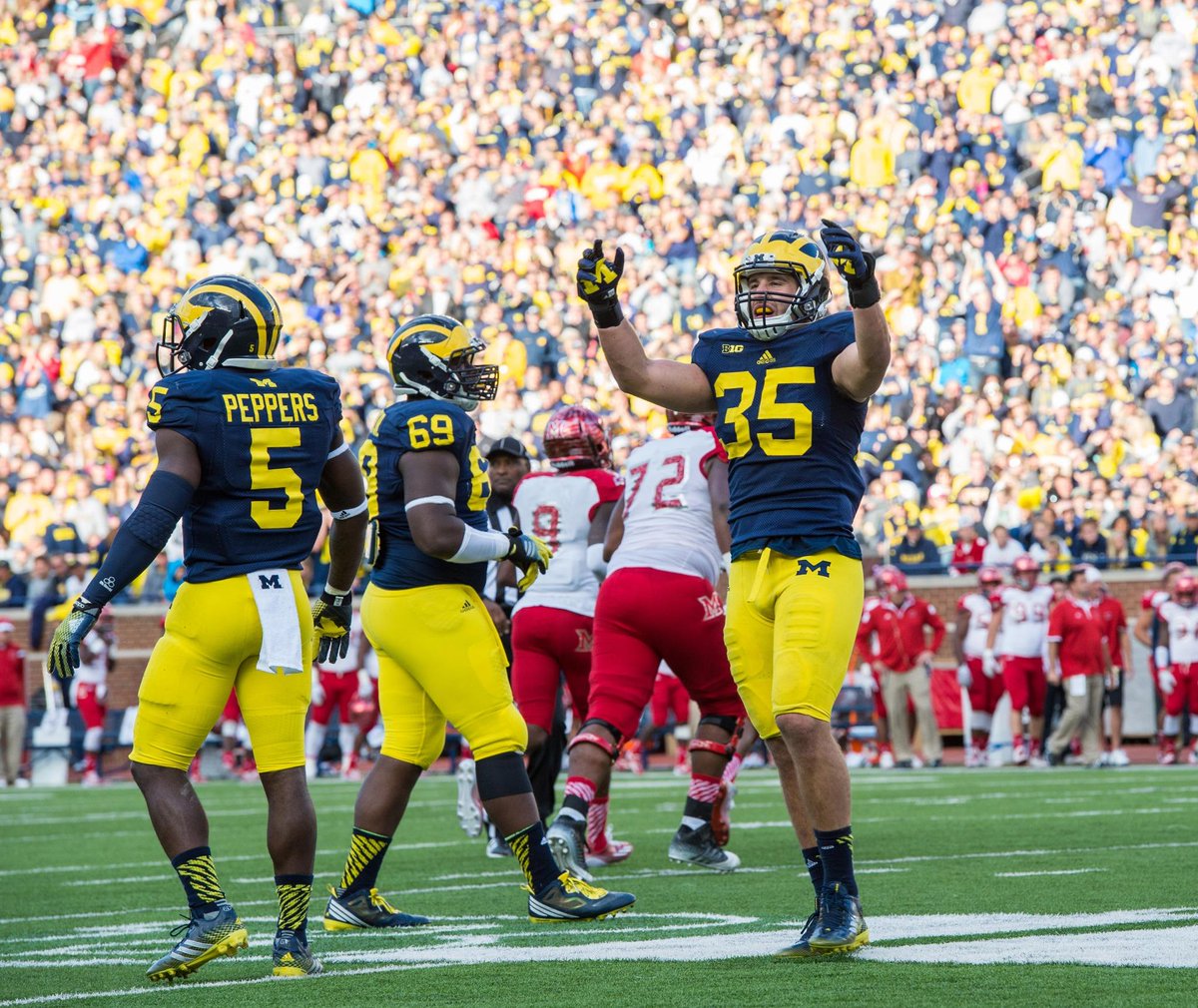 Photo source: Twitter
So it seemed at the time that running Carr out-of-town would be a good thing and that his replacement would make Michigan a winner again.
Enter Rich Rodriguez.
Rodriguez spent three seasons in Ann Arbor compiling an overall record of 15-22. It was no secret at the time that the current Wolverines roster did not have the type of talent needed to run Rodriguez's spread offense that he successfully coached at West Virginia. Rodriguez needed time to turn over the roster before his team could show any success.
But he was run out of the state of Michigan before he could finish. And now look at what he's done at Arizona.
Big mistake, Michigan fan.
So who did the Wolverines turn to next?
Brady Hoke.
While Hoke got Wolverines' fans excited in his first season as head coach in 2011 (Michigan finished at 11-2), many thought this was a direct result of Rodriguez's recruiting efforts. Rodriguez had finally recruited a roster that he could work with but was fired before he had a chance.
That theory soon seemed to become reality when Hoke's record got progressively worse each year after that: 2012 (8-5), 2013 (7-6) and 2014 (5-7).
And now that Hoke is gone, who's next? Les Miles has said that he does not want the job. Jim Harbaugh does not seem interested.
The fear for any new head coach at Michigan is simple. They are afraid that they will be run out of time before they have time to finish the job.
Because of this vacancy at the head coaching position, recruiting is suffering. While teams like Ohio State and Michigan State continue to get better, Michigan has been left behind as the new doormats in the Big Ten.
If there is any silver lining to this story, look at what happened at Florida State. When legendary head coach Bobby Bowden retired, many felt that the Seminoles would never be as good on the field as they used to. In fact, the program had already started to take a dive during Bowden's final few seasons.
We all see how that story turned out. Maybe the same can happen for Michigan. Only time, and a new head coach, can tell.
Men's Luxury Lifestyle Tip/Fact #1
For anybody that really, really wants to get away – the answer is Bird Island. There are actually tons of people who list their entire islands on Airbnb, but this one offers access to the whole island whether it be for a vacation or a wedding. Bird Island is inside of a small coral reef, and is a very small island, but the entire thing is yours. It's surrounded by crystal blue waters where guests can go snorkeling, swimming, and even kayaking (supplied by the island's owners). The island features a large main house at one end of the island and a cabana at the other end, making Bird Island perfect for a small getaway. Staying at Bird Island means staying a minimum of three nights, and paying $350 a night.
Men's Luxury Lifestyle Tip/Fact #2
The world's most glamorous vodka is made by Blackwood Distillers and will cost you a mere 1.2 million USD. Specially crafted in Scotland, Diva Vodka is considered one of the world's most expensive vodkas and is one of the purest vodkas in the market. The three-times distilled drink is first filtered through ice, then a special Nordic birch charcoal and finally precious gems that have been crushed into sand to ensure the vodka has been completely purified.
Men's Luxury Lifestyle Tip/Fact #3
The Panasonic 152-Inch Plasma TV is one amazing piece of equipment, you would have to keep this TV a secret because neighbours will never leave your home when they discover you have it. What stands out most about this TV is its weight and size, where would you put 1,272 pounds of TV whose diagonal measurement is 152 inches? This is surely a TV for the wealthy or the corporates because without half a million dollars at your disposal, there is no taking this TV home. However, if you do manage to get this TV, you will never experience television the same way again. This 3D TV has 4K resolution, meaning that it is an Ultra High Definition TV that delivers four times the resolution of a normal HD TV. Viewing anything on this TV is just amazing because you will hardly get picture quality like it anywhere else.