The 2014 NBA season isn't even 25 percent done yet but there are already three coaches on the hot seat to produce winners this season. Some of the coaches on this list are trying to turn perennial basement-dwellers into contenders while others are trying to get propel their teams to the next level. In a league where pressure mounts every single day to produce a winner, here are the three coaches to keep an eye on in 2014.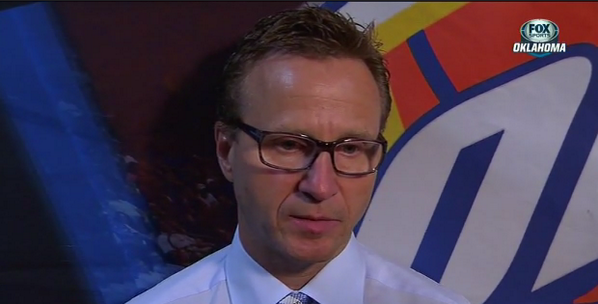 Photo: Oklahoma City Thunder coach Scott Brooks is under pressure to win an NBA title in 2014
Photo source: Twitter
Scott Brooks, Oklahoma City Thunder
One would have to wonder if the Thunder would already have a world championship if someone besides Brooks was the head coach. One of the biggest criticisms of Brooks is that he gets out-coached in the playoffs. While other coaches are making adjustments as a series progresses, Brooks and his staff seem to stand pat. It happened a few seasons ago when the Thunder reached the NBA Finals and won Game 1 but were swept in the next four games. Miami made adjustments while OKC continued to use the same gameplan they used in the series opener.
Critics would also argue that Brooks' success is purely due to the talent on his roster. In fact, Kevin Durant and Russell Westbrook could make any coach look good. The problem for Brooks this season is that both Durant and Westbrook were out with injuries at the same time causing the Thunder to begin the season with a 4-12 record. But now that Durant and Westbrook are back, the pressure is on for Brooks to get his team back into contention in 2014… and ultimately the NBA title.
Jacque Vaughn, Orlando Magic
When the Magic fired Stan Van Gundy, it was time for rebuilding to start. The team hired a new general manager who, in turn, hired Vaughn as the team's head coach. For two seasons now, the Magic have been a young team on the rise. Dwight Howard was in the team's rear-view mirror and the long-term rebuilding plan was underway.
It has been two full seasons now since Vaughn was given the keys to the Magic. Now in his third year, and a good young roster, the Magic are hoping to compete for one of the final playoff spots in the weak Eastern Conference. Thus far this season, the Magic are 7-13 and although they seem to be better than they were the last two years, they still seem to be far away from being a playoff team.
Vaughn and his staff will probably get the entire season to prove they can turn the team around but if Vaughn can't get it done, this may be the last head coaching job he will ever have.
Monty Williams, New Orleans Pelicans
It has been three seasons since Chris Paul and David West left New Orleans for greener pastures. But even though Paul and West are done, the Pelicans have one of the best young players in the league on the roster. In the first 16 games of this season, power forward Anthony Davis leads the team in four of five top categories: points (24.9), rebounds (11.3), steals (2.3) and blocks (3.1).
While Davis is getting MVP consideration, the team is plodding along with an 8-8 record. Now the pressure is squarely on Williams to turn his team into a playoff contender in the rough Western Conference.
Hopefully for Williams' sake, the team can finish strong after the slow start but that may be difficult since Eric Gordon is out with an injury for the forseeable future. But that will be no excuse for owner Tom Benson who has been patient enough with this team and coaching staff.
Men's Luxury Lifestyle Tip/Fact #1
The line between luxury and mainstream cruises might once have been distinct, but that's no longer the case. Cruise lines began to discover travelers didn't always fit squarely into one camp or another. Successful professionals were looking for upscale vacations combined with adventure or active pursuits. Experienced travelers wanted to explore new destinations, not all of which were accessible by sea. And hard-working individuals were saving their money for the trip of a lifetime but might feel uncomfortable cruising with high society. The same operators -- Royal Caribbean, Norwegian Cruise Line and Princess Cruises, for example -- that introduced the world to the affordable inside cabin, silly pool games, buffet lines and kids clubs are adding luxury elements, such as enormous suites, splashy spa facilities, gourmet specialty restaurants and exclusive lounges for V.I.P. passengers in an effort to lure travelers from all income brackets to their ships. And the luxury stalwarts -- Silversea, Seabourn, Crystal, Regent Seven Seas -- that staunchly maintained their moneyed ambience and pricey fares, are diversifying and trying to attract younger cruisers and create more casual onboard vibes.
Men's Luxury Lifestyle Tip/Fact #2
Red Cloud Estate in Park City Utah is a ski lover's dream. This grand home provides 9,600 square feet of living space, has eight bedrooms and eleven bathrooms. This multilevel home is as prestigious as it appears. The home's exterior stone face is continued inside the home thanks to the large fireplace and accent walls. Red Cloud Estate has hard wood flooring and an open post and beam style architecture that accentuates the home's grand scale. The in home theater allows you to entertain your guests on those nights when you want a break from skiing and riding at nearby Deer Valley Resort. At $10,000-$12,000 a night, this home will give you all the comforts of home with the fantastic backdrop of the mountains.
Men's Luxury Lifestyle Tip/Fact #3
The Bugatti Veyron EB 16.4 is a mid-engined sports car, designed and developed in Germany by the Volkswagen Group and manufactured in Molsheim, France, by Bugatti Automobiles S.A.S. The original version has a top speed of 407 km/h (253 mph). It was named Car of the Decade and best car award (2000–2009) by the BBC television programme Top Gear. The standard Bugatti Veyron also won Top Gear's Best Car Driven All Year award in 2005.