The TCU Horned Frogs made a statement to the College Football Playoff committee that they indeed belonged in the playoffs which begin on Thursday when Florida State battles Oregon at the Rose Bowl and Alabama faces Ohio State in the Sugar Bowl.
The Horned Frogs combined their up-tempo offense with a nasty shutdown defense to defeat the Ole Miss Rebels 42-3 in the Chick-fil-A Peach Bowl on Wednesday afternoon.
The game was never in doubt from the beginning. In fact, the only real drama in the game was if whether the Rebels would be shutout but that became a moot point midway through the fourth quarter when Ole Miss kicked a 27-yard field goal with 7:18 remaining in the game.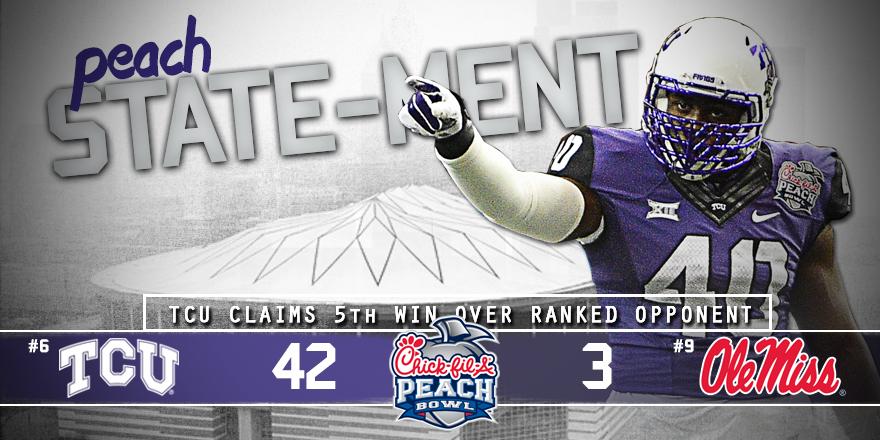 Photo source: Twitter
It was a clear sign of things to come when TCU (12-1) scored one minute into the game after Ole Miss quarterback Bo Wallace was intercepted on the third play of the game. On TCU's second play from scrimmage, quarterback Trevone Boykin turned and threw a lateral to wide receiver Kolby Listenbee who then threw a 31-yard touchdown pass to Aaron Green.
Boykin, who many think will be a serious Heisman contender in 2015, completed 22 of 31 passes for 187 yards and three touchdowns. He also threw three interceptions which was about the only thing that went wrong for the team in purple.
Offensively, the Horned Frogs only managed 423 total yards in scoring 42 points. But it was the defense that shined on this day holding the Rebels to a mere 139 yards in total offense while forcing four turnovers which led to 14 points.
Even more incredible was that while TCU turned it over four times, Ole Miss (9-4) could not convert any of those turnovers to points. Rebels quarterback Wallace was 10 for 23 passing for a minuscule 109 yards and three interceptions.
The game was highly anticipated due to TCU's high-octane offense against Ole Miss' highly ranked defense. But by the half, the score was already 28-0.
When the game was totally out of hand late in the fourth quarter (the Horned Frogs led 42-0), TCU fans began shouting "We want Bama!"
The TCU Horned Frogs made a statement which will clearly carry over into next season. One thing they learned for sure this season is don't lose a 21-point lead with 11 minutes remaining in the game to lose like they did to Baylor earlier this year.
Men's Luxury Lifestyle Tip/Fact #1
Looking for an expensive motorcycle? The Yamaha BMS has a 1,700cc V-twin engine. Powerful, but nothing far out of the ordinary. As with most of the bikes in this price level, the cost is the result of peculiar designs. This bike's seat is upholstered in red velvet and most of the rest of the bike is coated in 24 karat gold with an audacious print. As of 2013, this bike is the only gold-plated chopper on the road. As with most similar things (who could forget Flo-Rida's gold Bugatti Veyron?), this bike is a status symbol and an ostentatious way of literally riding your money around town.
Men's Luxury Lifestyle Tip/Fact #2
The ultimate ostentatious display of wealth, mega-yachts (yachts over 200 feet long) allow the world's elite to take their wealth on tour in a way nothing else can, and right now mega-yacht ownership is in the midst of an arms race. Software billionaires, Russian oligarchs and Middle Eastern sultans are scrambling to build the biggest yacht, the longest yacht, the most interesting yacht, the most outrageous yacht. The race is curiously secretive; even the most prosaic of details is difficult to pin down, breeding a paparazzi devoted to coverage of this supremely affluent -- and in many instances, utterly outrageous -- world of mega-yacht ownership.
Men's Luxury Lifestyle Tip/Fact #3
Located in Paris, France is a romantic getaway definitely meant for two. Listed in Airbnb's Top 40 All Over The World Homes, this small houseboat is located right within view of the Eiffel Tower. The owners of the houseboat reside in the houseboat even when guests are staying, but they stay on a completely different flat as to provide privacy. The houseboat is located near many historical monuments, tourist attractions, and street vendors. The houseboat has internet connectivity, television, an espresso machine and more, but doesn't come with towels. The houseboat is available for $127 a night, and does not have a minimum amount of nights required to stay.