If you're the Florida State Seminoles, you would have to feel at least a little animosity towards the College Football selection committee, wouldn't you? After all, the Seminoles have the nation's longest current winning streak at 29 games. They won the 2014 BCS National Championship over Auburn. And they enter the 2015 College Football Playoffs as the only undefeated team in the FBS.
But despite those facts, Florida State (13-0) is only ranked No. 3 in the country behind No.1 Alabama (12-1) and No. 2 Oregon (12-1). The selection committee has spoken. Being undefeated does not necessarily make you the best team in the country.
Of course their is merit behind the committee's claims. The Seminoles were notorious for starting games slow during the 2014 regular season which forced them to make incredible second half comebacks. All season long, analysts predicted that it would all catch up to the Seminoles. One team on their schedule would trip and dethrone the national champions. So we all waited… and waited… and waited…
But it never happened.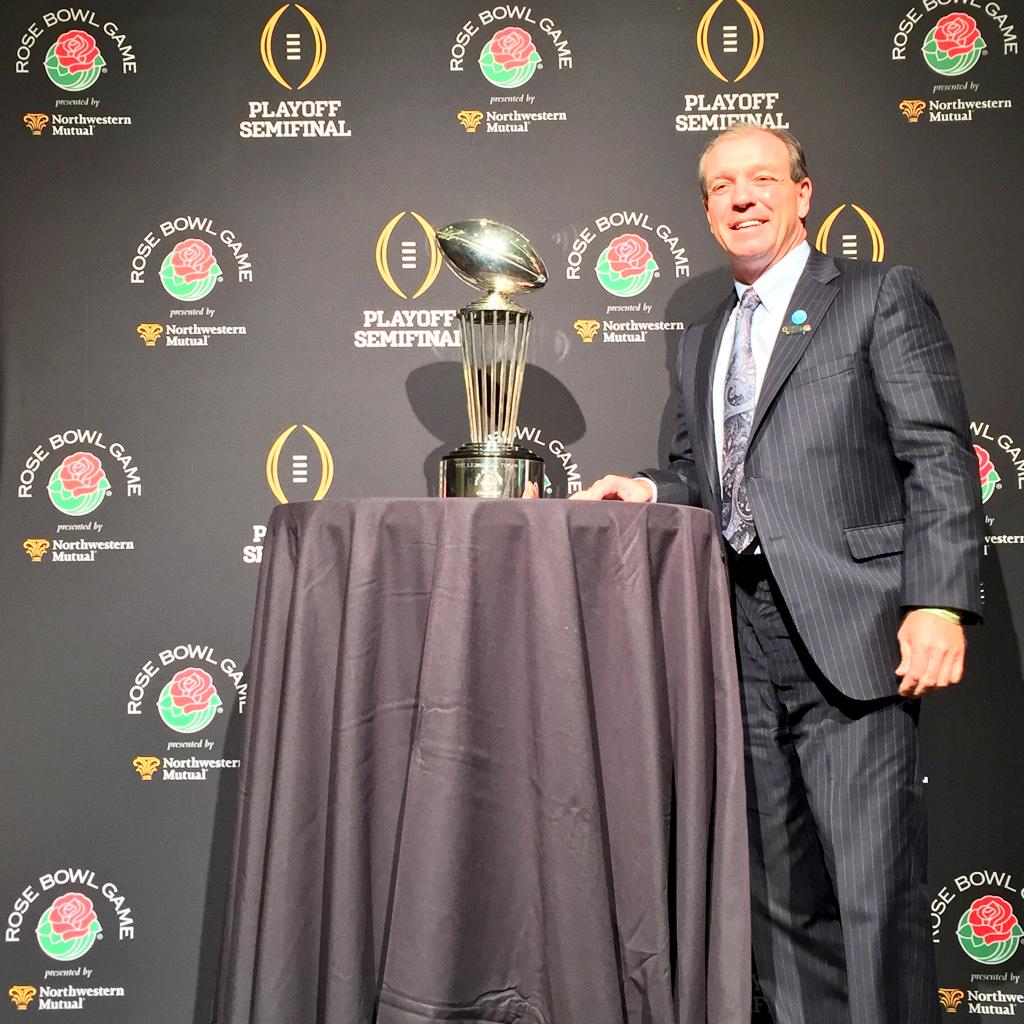 Photo source: Twitter
The question is, how does the lack of apparent disrespect play in the FSU locker room? Do they even care how the committee voted?
"It's not about the committee," said Florida State coach Jimbo Fisher (pictured above). "If we're having to worry about trying to prove ourselves … Listen, we're in the College Football Playoff. We're one of the most elite teams in the country. It's about us just playing well now and taking care of our business."
That's a very bottom line answer. The Seminoles are in the dance and now it's time to prove all the doubters wrong.
"It could definitely be an opportunity to prove people wrong, but that's the committee's job," said defensive tackle Derrick Mitchell Jr. "That's what they felt. But no matter what, if we were 1 or 4 or 3 or 2, we still make the playoffs. It's not like we get home-field advantage or anything. We're still playing at a neutral site, so we just have to go out there and play Florida State football, and the rest will take care of itself."
One would have to wonder if Alabama, Oregon or even Ohio State would be shown as much disrepect if they entered the College Football Playoff with a 29 game winning streak. Would the committee dare vote Nick Saban's team as the No. 3 team?
But as far as the Florida State Seminoles are concerned, enough with all the questions.
"They're going to say what they want to say about us," said running back Karlos Williams. "They're going to have their own perception of us. We're just here to win football games. It's not up to us to rank ourselves. I believe we're the best team in the country, but to them, we're the third-ranked team in the country, so we have to take that, go with it, just continue to play good football and go out there and try to beat Oregon."
Couldn't have said it better myself.
Men's Luxury Lifestyle Tip/Fact #1
Superyachts are the pinnacle of luxury. They are modern day Titanic-like vessels that span anywhere from 70 to 230 feet long and weigh up to 10,000 tons. These behemoths are truly reserved for the rich and powerful. But boy do they seem awesome. With some of the world's most notable billionaires owning luxury yachts and throwing huge parties aboard them with A-list celebrities, one can't help but feel a little jealous as an onlooker. They serve a variety of purposes. From partying to business to marine exploration, these beastly vessels are used for a variety of purposes. In some cases, recording studios onboard these vessels have even been used to record albums by greats like Mick Jagger. They've also been graced with performances at private parties by greats like Usher, U2, and Johnny Cash.
Men's Luxury Lifestyle Tip/Fact #2
Golf lovers will enjoy the chance to tee off at the massively impressive Mission Hills Golf Club in Shenzhen and Dongguan, China. This golf mecca sits in lake-studded rolling countryside, with a whopping 216 holes designed by 12 legendary golfers and golf course architects -- Nicklaus, Faldo and Dye are just a sampling of who's had a hand in the Mission Hills mix. Indeed, there's a course to challenge every golfer. The frills go far beyond the fairways, too. The $625 million resort complex features a luxury hotel, 5 spas and 2 high-end resort communities along with top-notch restaurants that span the international spectrum.
Men's Luxury Lifestyle Tip/Fact #3
Looking for an expensive motorcycle? The Yamaha BMS has a 1,700cc V-twin engine. Powerful, but nothing far out of the ordinary. As with most of the bikes in this price level, the cost is the result of peculiar designs. This bike's seat is upholstered in red velvet and most of the rest of the bike is coated in 24 karat gold with an audacious print. As of 2013, this bike is the only gold-plated chopper on the road. As with most similar things (who could forget Flo-Rida's gold Bugatti Veyron?), this bike is a status symbol and an ostentatious way of literally riding your money around town.