For Kentucky fans, Saturday night's loss to Wisconsin in the NCAA Basketball National Semifinals was more than just a loss on the court — it was also a huge loss on the retail front.
Understandably, Wildcat fans don't care about how much money was lost, but for retailers who banked on Kentucky winning and advancing to the championship game on Monday night, it was a huge blow.
For the school itself, UK stands to lose as much as $1.5 million in royalty fees. But it's the individual retailers that will suffer most of the financial loss — as much as $15 million.
Obviously, the huge loss in revenue is for championship gear they simply can't sell now. And given the fact that Kentucky was trying to become the first team to go undefeated in college basketball since 1976, merchandise sales would have been substantial.
The Wildcat Wearhouse is a Lexington-based retailer that had much on the line. During the game, owner Matt Hoetker went for a walk instead of watching to help calm his nerves. But when he returned home, his wife Kirby met him just inside the door. Hoetker took one look at her and knew right away what had happened.
"I was just stunned," said Hoetker. "Every time I get upset, I have to think about what this great season did for us."
All told, Hoetker would have contributed over $1 million in royalties had Kentucky won the national championship. Hoetker also indicated that sales during March and the first week of April at his 18 stores were brisk.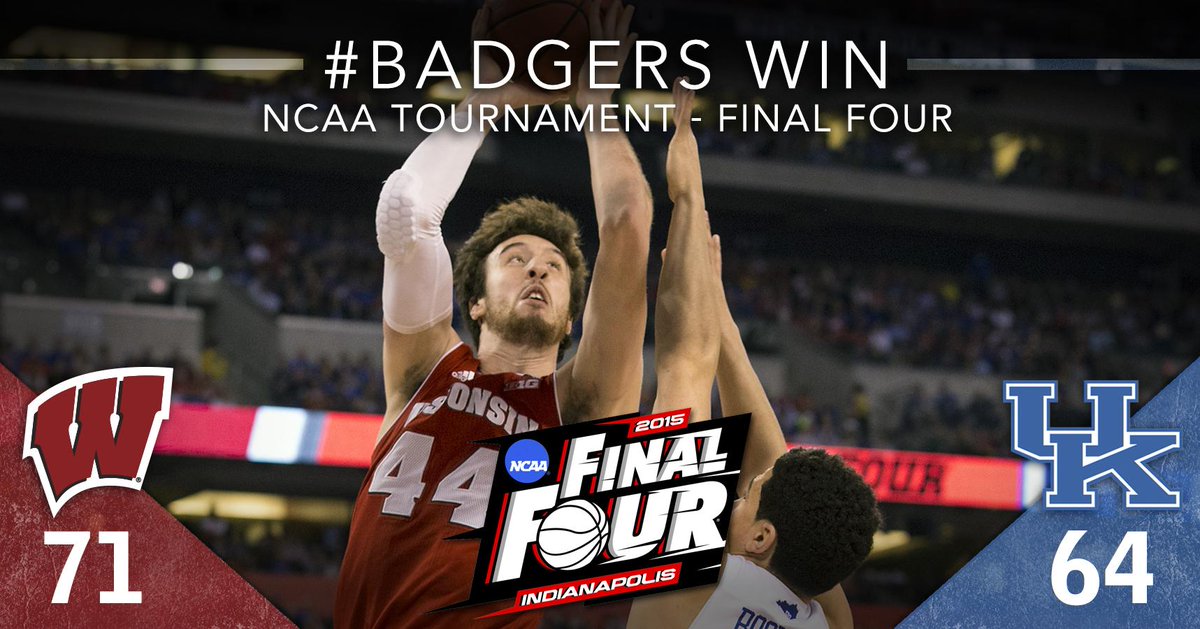 Photo source: Twitter
"We would have produced 115,000 T-shirts over the next month," said Hoetker, who is now going on a vacation with his family, something he couldn't have done if Kentucky won the title.
Instead of staying around to cash in and produce championship t-shirts, Hoetker is now going away on vacation with his family. Never has a family been so disappointed about taking time off.
And then there's the story of Glenn Campbell, the founder of the company Lids, which has 1400 stores nationwide. Lids also sells more college sports hats than any other company in the U.S.
After Kentucky's loss, Campbell said, "When you don't have a dog in the fight, you root for business. The other three teams' title gear combined wouldn't hold a candle to what Kentucky would have generated. This would have had legs for the next 12 months. Actually, judging from Indiana, it might have lasted 50 years."
And finally, there is the story of Joe Bozich. His company, Knights Apparel, produces more retail college gear than any other company in the country, including Nike.
"This would have been our single biggest basketball title in terms of amount of product we would have made and sold," said Bozich. "Including college football titles, it likely would have made it into the top seven highest-grossing title runs."
Insiders say that Kentucky will be just as good, or better, next season. So maybe these retailers will get another shot at the big money.
Men's Luxury Lifestyle Tip/Fact #1
The Ritz Carlton in Paris is the créme de la créme of French refinement. At the hotel's restaurant, L'Espadon, curious diners can experience culinary magic at a private chef's table. Situated smack-dab in the middle of the busy kitchen, guests might pick up some secrets to the success behind the restaurant's 2 Michelin stars. There's no set menu. Instead, Chef Michael Roth takes requests or lets his inspiration guide these lucky diners through each course. Reservations are hard to come by and should be scheduled weeks in advance.
Men's Luxury Lifestyle Tip/Fact #2
When you're looking for romantic getaway to get your partner in the mood with stunning natural beauty and upscale accommodations, look no further than the Ritz-Carlton Half Moon Bay resort in Half Moon Bay California. The resort is conveniently located just an hour north of San Francisco and has all the luxurious features you'd expect from a Ritz-Carton hotel, including stunning ocean views, beautiful outdoor seating, two golf courses, a full service spa and packages to suit any vacation theme. Seated on a secluded ledge that looks out onto the ocean, this romantic getaway spot saturates your senses with views of the surrounding forests and mountains. The Ritz-Carlton website notes that this year, the resort is offering a romantic S'more Winter Romance package for New Years Eve that includes a $200 spa package, a rose petal turndown, access to the Terrace Fire Pit, and a s'mores kit to enjoy over the fire. This overnight stay starts at a cool $1095 for New Years Eve night.
Men's Luxury Lifestyle Tip/Fact #3
One of the coolest facts about the Lamborghini Aventador SV is that it can go from zero to sixty-two miles per hour in just 2.8 seconds! Yet there is so much more to love about this automobile. For example, the V12 engine will roar and blast you to a whole new world of driving. 740 horsepower and 509 pound-feet of torque allow this Lamborghini to get to 217 miles per hour with ease and grace. Plus, you get all of the allure and sexiness of the elegant Lamborghini automotive brand.