It seems like forever ago since we all witnessed the "Game of the Century" between No. 1 Ohio State and No. 2 Michigan back in 2006. Both teams were 11-0 led by head coaches Jim Tressel of the Buckeyes and Lloyd Carr of the Wolverines.
On that great day eight years ago, Ohio State won a thriller, 42-39…
… and the rivalry has never been the same ever since.
But new Michigan head coach Jim Harbaugh could help turn things around.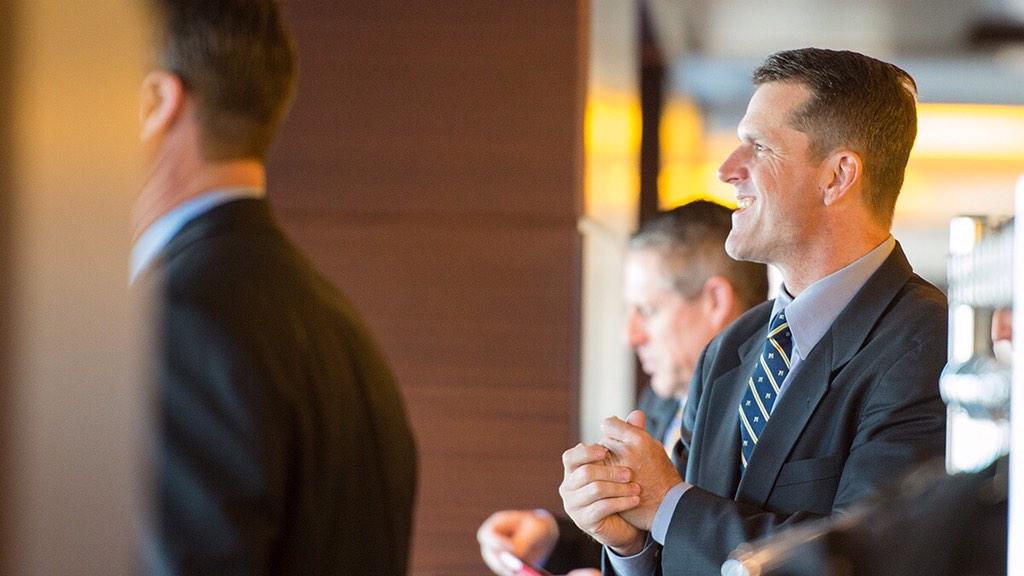 Photo source: Twitter
Ohio State has dominated the rivalry since 2004 winning 10 out of the last 11. Michigan fans have been starving for a coach like Harbaugh to help make them a more competitive team in the Big Ten next to the Buckeyes and Michigan State.
"Throughout my life, I have dreamed of coaching at the University of Michigan," said a raspy-voiced Harbaugh who was reading from a statement at a packed news conference in Ann Arbor on Tuesday. "Now I have the honor to live it."
Harbaugh coached the San Francisco 49ers over the past four years, leading them to three consecutive NFC Championship games and one Super Bowl appearance before finishing 8-8 this season. Harbaugh and the 49ers mutually parted company allowing him to jump back to the college game where he was the head coach at Stanford before being hired in San Francisco.
"Top to bottom, Michigan is about excellence, is about greatness, and you have my pledge that I will carry forward the tradition of excellence of the University of Michigan football program," Harbaugh said.
Despite finishing the 2014 season at 5-7 under former head coach Brady Hoke, Harbaugh insists that the program does not need to be turned around.
"There are no turnarounds at Michigan," he said. "This is greatness."
As for recruiting, Jim Harbaugh does not believe it will be a tough job despite poor performances in recent seasons.
"I know Michigan football," he said. "I believe in Michigan football. That will not be a hard job."
Men's Luxury Lifestyle Tip/Fact #1
Louis Vuitton Shoes are the third most expensive shoes in the entire world. Louis Vuitton is a world famous brand which is known for creating luxurious and expensive products for people. This pair of footwear is made from beautiful alligator skin which is further made incredible with its design. The price of these product is $10,000. Every single inch of this footgear is handmade and with perfection to make it totally worth it for the high price. It is the best option for individuals to grab most stylish and beautiful loafer for them with a unique style statement.
Men's Luxury Lifestyle Tip/Fact #2
The Four Seasons is a Canadian five-star luxury chain. There are 98 Four Seasons properties throughout the world including Toronto (of course), New York, Los Angeles, St. Louis, Paris and Seychelles. Many Four Seasons properties are resorts offering beach front amenities with water sports such as sailing and diving, as well as other locations which offer skiing, golf and of course, the famous Four Seasons Spas. While all the activities are great, one thing that most people forget you do at a hotel is actually sleep- and for that, The Four Seasons has you covered with their luxurious beds. And if you fall in love with the bed so much you don't want to leave- no worries, you can buy one ranging from $2,199 for a twin size to $2,999 for king sized mattress. Remember, you can't pay for a good night's sleep, but you can pay for a very good mattress.
Men's Luxury Lifestyle Tip/Fact #3
The Bugatti Veyron embodies what it means to be a gas-guzzling car, but it does so with supreme style. Reaching top speeds of 254 mph, the Bugatti Veyron will suck its entire 26 gallon tank in around 12 minutes. That's an amazingly fuel-inefficient average of 2.3 miles per gallon. While emptying the tank, the car will travel an average of 51 miles. The car will also go from 0-60 mph in just 3 seconds. So the next time someone complains about low gas mileage, just point them to this car. Granted this car is traveling probably at least twice as fast as their car ever will, so it's not too surprising.