Are you excited every year when the schedule for the bowl games is announced? There could be any number of reasons for getting excited such as seeing where your team will play, seeing what teams will play at a stadium near where you live or seeing which games have two teams you actually care about.
And then there are those that just love college football so much that we will watch any game if it's on TV.
From experience, I am generally disappointed as I read through the list of games and the teams playing. It's one thing to hear about six-win teams becoming bowl eligible at the end of the season but it's another thing to see a 6-6 team on the bowl schedule. Those are the games you probably won't want to watch.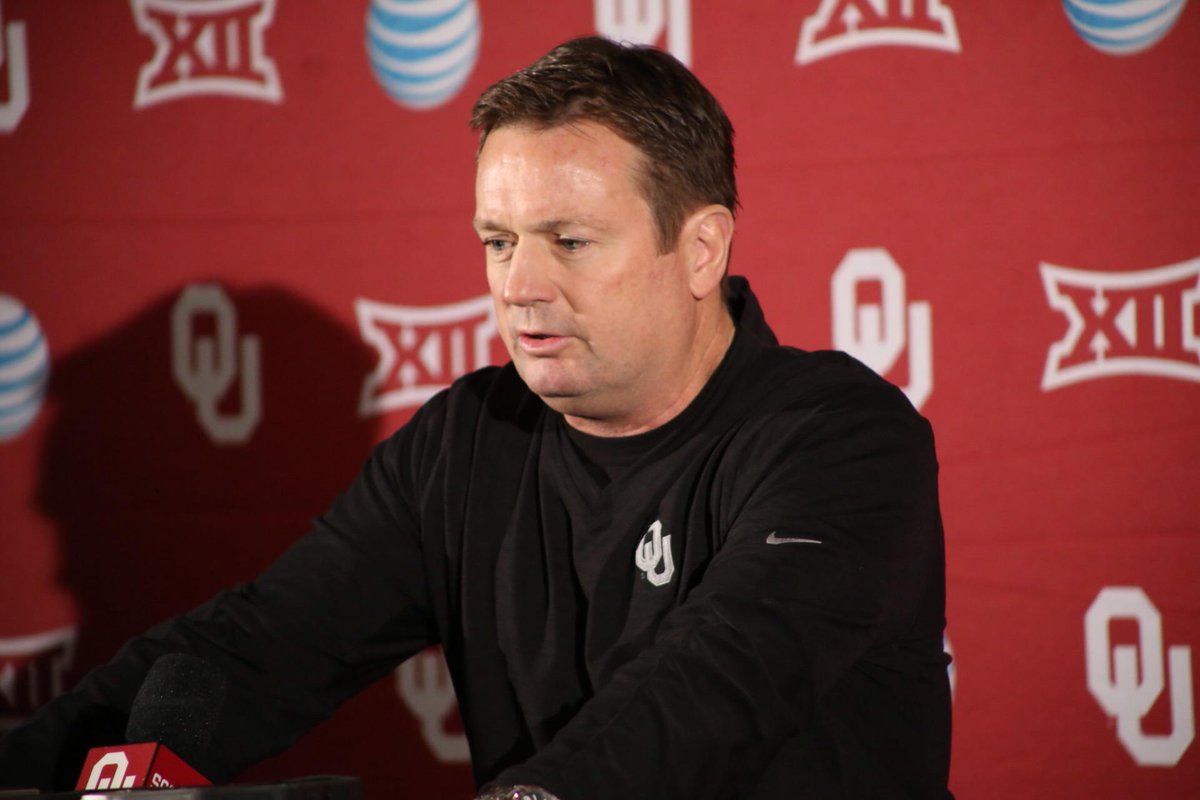 Photo: Oklahoma Sooners head coach Bob Stoops will prepare his team to play the Clemson Tigers in the Russell Athletic Bowl in Orlando on Dec. 29
Photo source: Twitter
So I'm here to help you out by letting you know which games you should watch to help you sift through all the other garbage.
Duck Commander Independence Bowl (Shreveport, LA)
Miami Hurricanes (6-6) vs. South Carolina Gamecocks (6-6)
Dec. 27 3:30 pm ABC
Comments: Interestingly enough, this is the first bowl game worth tuning in for once the bowl season begins on Dec. 20. It features two well-known teams from Power Five conferences that had average seasons. And besides, why would you miss a bowl game featuring Steve Spurrier?
Russell Athletic Bowl (Orlando, FL)
Oklahoma Sooners (8-4) vs. Clemson Tigers (9-3)
Dec. 29 5:30 pm ESPN
Comments: It's hard to imagine Bob Stoops and the Sooners not being on a New Year's Day game but it's also hard to imagine a season in which Oklahoma lost four times. This is another bowl game featuring two teams from Power Five conferences who had average seasons. In this case, both teams have offenses that can be explosive so it should make for a good battle.
Franklin American Mortgage Music City Bowl (Nashville, TN)
Notre Dame Fighting Irish (7-5) vs. LSU Tigers (8-4)
Dec. 30 3:00 pm ESPN
Comments: This looks like an interesting battle of two teams that never play at all. After Notre Dame lost to Florida State, their season seemed to slide downhill from there. The same can be said for LSU after losing to Alabama. Both teams are looking for a positive way to end an otherwise disappointing 2014 season.
Chick-fil-A Peach Bowl (Atlanta, GA)
No. 9 Ole Miss Rebels (9-3) vs. No. 6 TCU Horned Frogs (11-1)
Dec. 31 12:30 pm ESPN
Comments: This will be the first bowl game of the season featuring ranked teams. It also featured two top 10 teams that had aspirations of playing in the College Football Playoff before their hopes were extinguished. It will be interesting to see how TCU plays after being dropped from the top four on the final weekend of the season. Motivation plays a strong part in bowl games and if the Horned Frogs don't feel excited to play this game, it would be an easy victory for Ole Miss.
Goodyear Cotton Bowl Classic (Arlington, TX)
No. 8 Michigan State Spartans (10-2) vs. No. 5 Baylor Bears (11-1)
Jan. 1 12:30 pm ESPN
Comments: This game is simple to diagnose: up-tempo offense against stout defense. Baylor will bring their potent offense to take on the tough Michigan State defense. Although the Spartans weren't as good this season on defense as they were a season ago, they are still a formidable opponent. Baylor will still be smarting from not being selected as one of the four teams to play in the College Football Playoffs so they will have something to prove.
There are 36 other bowl games besides the Rose Bowl and Sugar Bowl to watch this season but only these games jumped out as must see TV. But regardless, I know you can't wait to see ESPN's first bowl game commercial featuring the song "It's the Most Wonderful Time of the Year".
Men's Luxury Lifestyle Tip/Fact #1
The Chevrolet Camaro was created as a response to Ford's Mustang, which was a reaction to Chevy's Corvair Monza. The competition for manufacturers to produce the latest big seller has always been a driving force of the automotive industry and will continue into the future with flying cars. The Camaro is a classic introduced for purchase in 1966; it was an immediate hit, although the Mustang and the Pontiac Firebird had their own following. Vintage Camaros are still in high demand and loved by car enthusiasts.
Men's Luxury Lifestyle Tip/Fact #2
Hawaii may be a honeymoon cliché, but for challenging play in a landscape straight out of a fairytale, few green scenes can steal your heart like the lineup of golf in Kauai. Start your tour of the Garden Island with a round at Kauai Lagoons, a short cart ride from the indulgent Marriott's Kauai Beach Club resort in Lihue. (Marriott recently bought the course, which will eventually be incorporated into a Ritz-Carlton property). The Kiele Course here, designed by pro golfer Jack Nicklaus, combines with the Mokihana Course for 18 holes of play that take in ocean and mountain views.
Men's Luxury Lifestyle Tip/Fact #3
When it comes to luxury, restaurants and hotels around the world continually push the limits to give their customers unparalleled experiences. Before selecting a destination, think about your definition of luxury. For some travelers, nothing less than white-glove service will do. Private butler service isn't merely a nice touch, it's a necessity. For others, luxury means a private beach where you can gaze out and not see another soul. A gourmet meal served at a table inside a celebrity chef's kitchen is many people's idea of the ultimate indulgence. Your idea of luxury will dictate your travel plans almost as much as your budget.